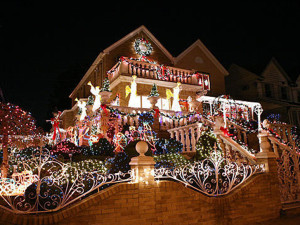 What Distinguishes Christmas Decor?
There are literally hundreds of reasons why Christmas Decor is the leader of the holiday lighting and decorating industry. This list is just a glimpse of how our company continues to create holiday magic for our customers through professional decorating.
No other company has the solid experience, through training and industry leading products that Christmas Decor delivers for it's clients.
Since 1986 we have worked to distinguish ourselves by providing the highest levels of service, professionalism and results. Our goal is to create a "remarkable" holiday experience for you, your family and friends.
Our service can really "un-complicate" and simplify your life. From our design and installation to our pro-active maintenance to our removal and storage of your decorations.
We know you want your home decorated correctly, promptly and with the greatest attention to detail. That's exactly how we work.
We look forward to YOU becoming one of our valued clients.
Training and Credentials
Extensive Design Training
Comprehensive Electrical Instruction
Precise Installation Methods and Techniques
Annual Continuing Education
Thorough Ladder & Roof Safety
Strict Electrical Safety Measures
Courteous, Uniformed Crews
Completely Insured
More than 325 Franchise Allies in the United States and Canada
Localized Service with National Support
All Inclusive Service
Design Unique to Your Property
Customer Focused
Property Friendly
Thorough Installation
Pro-Active Service and Maintenance
Convenient Take Down Service
Trouble-Free Storage
Flexibility Upon Renewal
Automatic Decoration Replacemen
Ability to Build Display Over Time
Elf Dollar Customer Loyalty Incentive Program
Annual Consultations
Christmas Lights Harford County
We provide Holiday Lighting and landscaping services for residents and businesses throughout Harford County and Baltimore County. Our service area includes the following major cities in the Greater Baltimore area of Maryland: Amyclae, Baldwin, Aberdeen, Aberdeen Proving Ground, Abingdon, Baltimore, Bowleys Quarters, Bel Air, Belair, Belcamp, Bush, Campus Hills, Carney, Cub Hill, Cardiff, Castleton, Churchville, Conowingo, Darlington, Dublin, Edgewood, Edgewood Area of Aberdeen Proving Ground, Edgewood Heights, Edwards Manor, Emmorton, Fair Hill, Forest Hill, Forge Acres, Fallston, Fork, Fountain Green, Franklinville, Glenwood, Green Spring Hills, Gunpowder, Havre de Grace, Hampton, Hickory, Honeygo, Hydes, Kingsville, Jarrettsville, Joppa, Joppatowne, Jerusalem Mills, Level, Loch Raven, Laurel Valley, Long Green, Middle River, Mount Vista, Norrisville, Nottingham, Perry Hall, Perry Point, Perryman, Perryville, Pleasant Hills, Pylesville, Parkville, Rosedale, Riverside, Street, Towson, Upper Falls, Warwick, White Hall, White Marsh and Whiteford.